When to use the Instant Messenger Kit
The IM kit tells you when your friends are online, even when you are using a different program like the TimeZliner, which means that you don't waste time composing emails when a few minutes chat would answer your questions.


How the Instant Messenger Kit works
When you start the IM kit and log in to the protocols you have accounts for, the IM kit will connect to these IM networks, which directs chat traffic between all Zeta users and users on other platforms using one of these protocols. When the IM kit is running, it will constantly be checking with the activated networks to see if any of your friends are online, what their statuses are, and if they're typing/sending you messages.
When you or one of your friends initiates a chat, the activated servers connect your client applications so you can send messages to each others.


Setting Your Status
Anyone who has made a People file about you with the protocols as attributes, or friends that has added you to their Buddy List can see when you are logged in and what status you have set. Setting your status as Available, is an invitation for others to start a chat.
You can set your online status for all protocols at once using the kit's replicant in the Deskbar menu, or choose which protocol you want to be available with: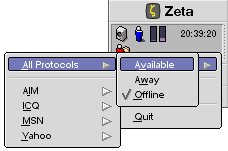 Currently only three different status modes are supported: Available (Online), Away and Offline. The kit lets you set a different status for each protocol if needed.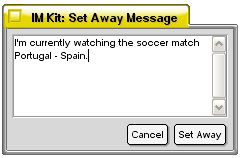 You can easily check your online status by by moving the mouse over the deskbar replicant. A label with then appear on the screen showing the status of each installed protocol:
Our tip is that you switch your status from Available (green) to Away (yellow) when you need to get some work done. This way you are able to get the work done without being disturbed with unnecessary messages, but still being able to send messages related to your work.

Adding Screen Names and UINs to Person files
First go to the People folder (/boot/home/people). Choose Window in the menu bar and change the view to List View. All activated Attributes will then appear for that folder. During the installation of the IM kit, you made two new attributes. These two attributes are activated by choosing Attributes - Person and then IM Connections and IM Status. The first attributes are general attributes for folders (directories), and the last ones are specific for the application x-person.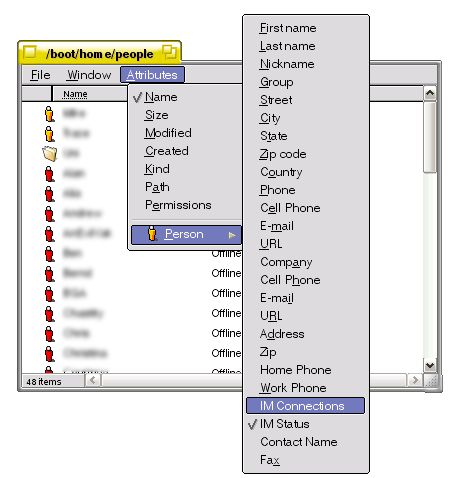 The first time you log on with the installed protocols, the IM kit will download your buddy lists from the protocols that you have accounts for: AIM, ICQ, MSN and/or Yahoo!. The IM kit will automatically generate Person files with Screen Name and UIN information stored in the IM Connections attribute. No other information will be stored to these Person files, and they will therefore appear as unkown contacts. By using using IM_Merge contacts add-on in the Tracker, you can merge these two contacts and their attributes together. For most situations we recommend you to choose the second merge direction: "Unknown contact" > "Registered contact".
After having merged these Person files, you might have some friends that you haven't chatted with before. To add information about their IM Connections, simply click on their IM Connections field and add the protocols that they are using. Screen Names and UIN are written in the following way: AIM:industroslaad and ICQ:1595259. If a person is using more than one protocol, you can register them all in the same field. The protocols are than separated with a ;.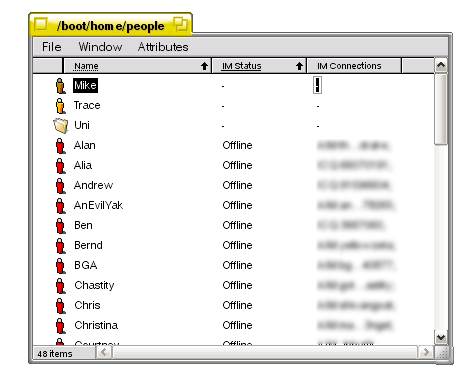 Seeing People's Online Status
When you are logged on to the BeOS IM Kit, you can see the current IM Status to all your friends and business relations registered with an IM Connection.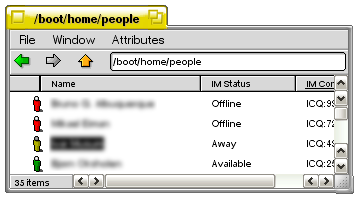 The IM kit gives you information about the status of your buddies as they change. The screenshot is taken, as the IM kit got started and status got set to Available. Four of buddies were then online (Available or Away).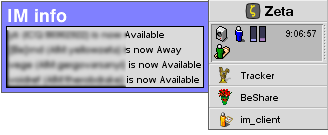 Receiving Messages
If you receive a message from somebody, a new window will open where you can chat with them and an alert will appear in the Deskbar. The IM kit's replicant will blink (switch between green and orange). A red replicants indicates that you are not online.




Starting a Chat
There are two ways to start a chat in the IM kit:
The first way is simply to choose a Person file and open it with im_client.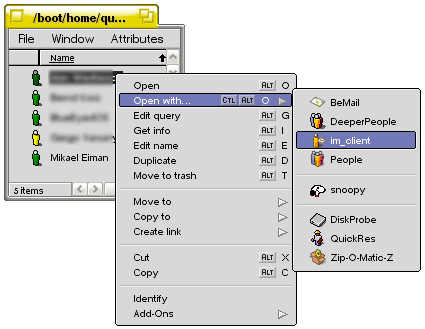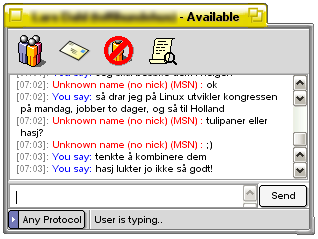 Depending on what Instant Messenger your buddy is using, you can see when the User is typing.. This feature makes it easier to make a conversation.
Clicking Show info opens your contacts People file, and clicking E-mail will start your default e-mail client. You can also block a contact. This will prevent your contact from seeing when you are online and available for a chat.

Looking Up Content From a Chat
Select a word or part of the chat and right-click the mouse. A context menu will then appear, letting you choose to look up your selection at Dictionary, Google and Acronym Finder.