To edit your settings for the IM kit and the installed protocol(s), right-click the talk-bubble icon in the Deskbar and select Settings. In the IM Server settings click on the protocol you want to edit.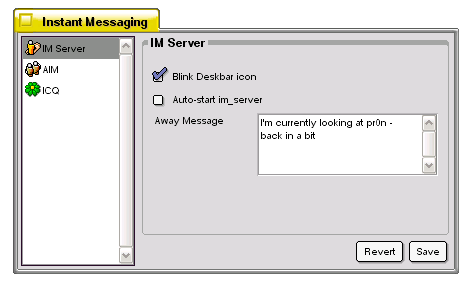 In the IM Server preflet you can set if you want the IM kit's deskbar replicant to blink when you receive a message. In the general settings you can also set the IM kit to start with the operating system as you boot it. You can also change the settings for the im_server, for example you can select if you want it to start automatically when you start your computer, you will then only have to set if you are available for chat or not from the replicant. In the general setting you can set an away message that will apply for all installed protocols. When added your changes press Save to activate them.

AIM settings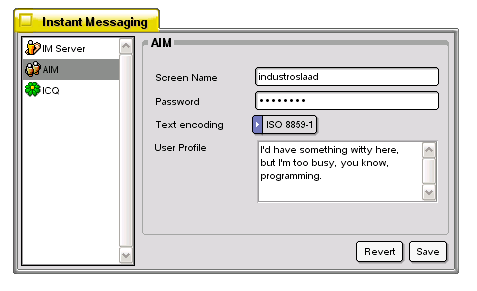 If you want to start using the AIM protocol, you will have to register at http://www.aim.com/. When registered, you will have your Screen Name and a Password, which you can add to this preflet. We recommend that you use ISO 8859-1 as you text encoding, but the IM kit also support other encodings. At last add your User Profile and press Save to activate these settings.

ICQ settings
The ICQ protocol was the first supported protocol in the IM kit. To use the ICQ protocol, you will need an ICQ account. In the ICQ settings you can add your ICQ id (UIN), Password, and choose your prefered text encoding. To activate the changes you have made, press Save.

MSN Settings
Yahoo! Settings