Tinitell first impressions
A long time ago I backed a Kickstarter for a wrist-worn phone for kids . The Kickstarter campaign closed in the summer of 2014, and the initial plan was to ship the devices in April 2015. The Kickstarter was successful, and then real life appeared. It took them almost another year to finally ship my phone in February 2016. I can't say that I'm surprised at the delay, since making physical stuff is hard and this was a new company that hadn't done anything like this before. Of the ten people profiled on the campaign page, only one was an engineer… I do think they did the right thing when delaying delivery to make the product better; better a usable device late than crap early, like the old saying goes. Improvements over the initial description include smaller device volume and better water resistance.
But never mind that, it has now arrived and is ready for unpacking: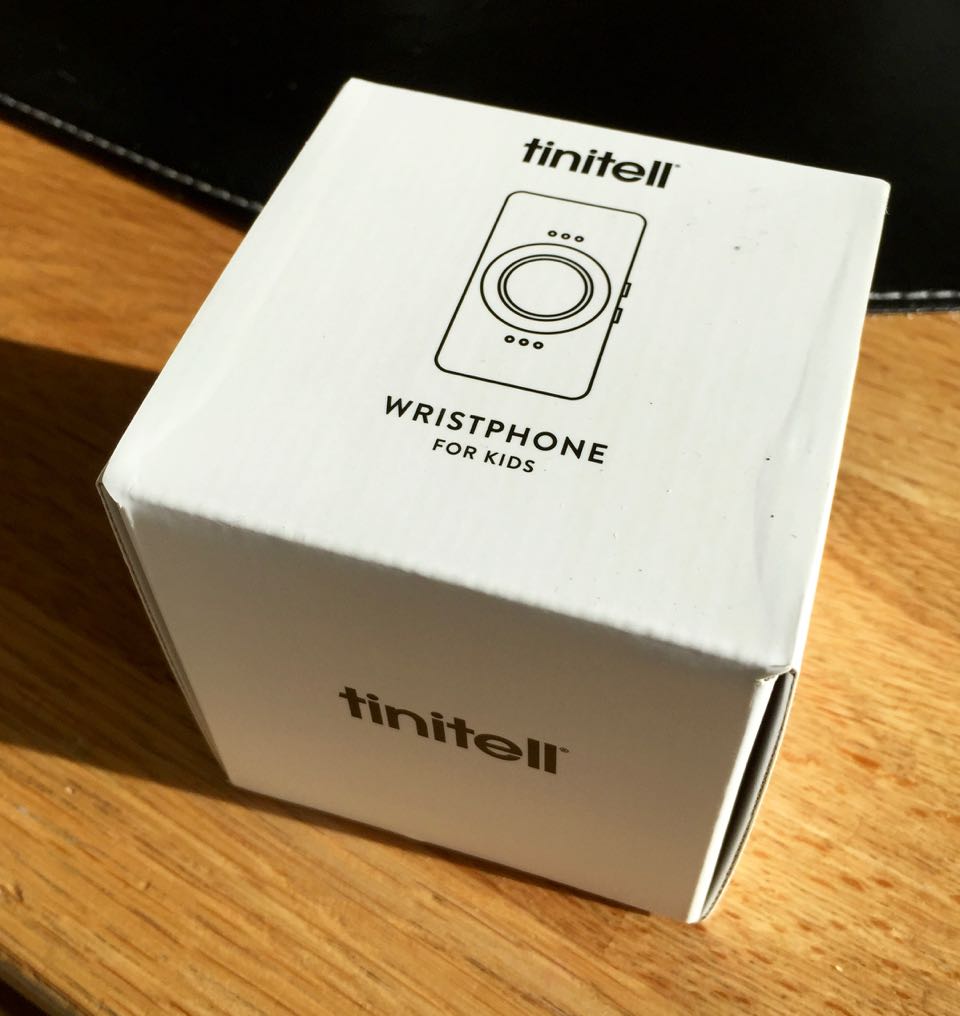 Opening up the box, we see the phone and not much else. Looks like it might be a bit big on my kids' wrists, but it doesn't look too unwieldy. The big round thing in the middle is a button used to answer and place calls, and around it are 12 LEDs that indicate various things.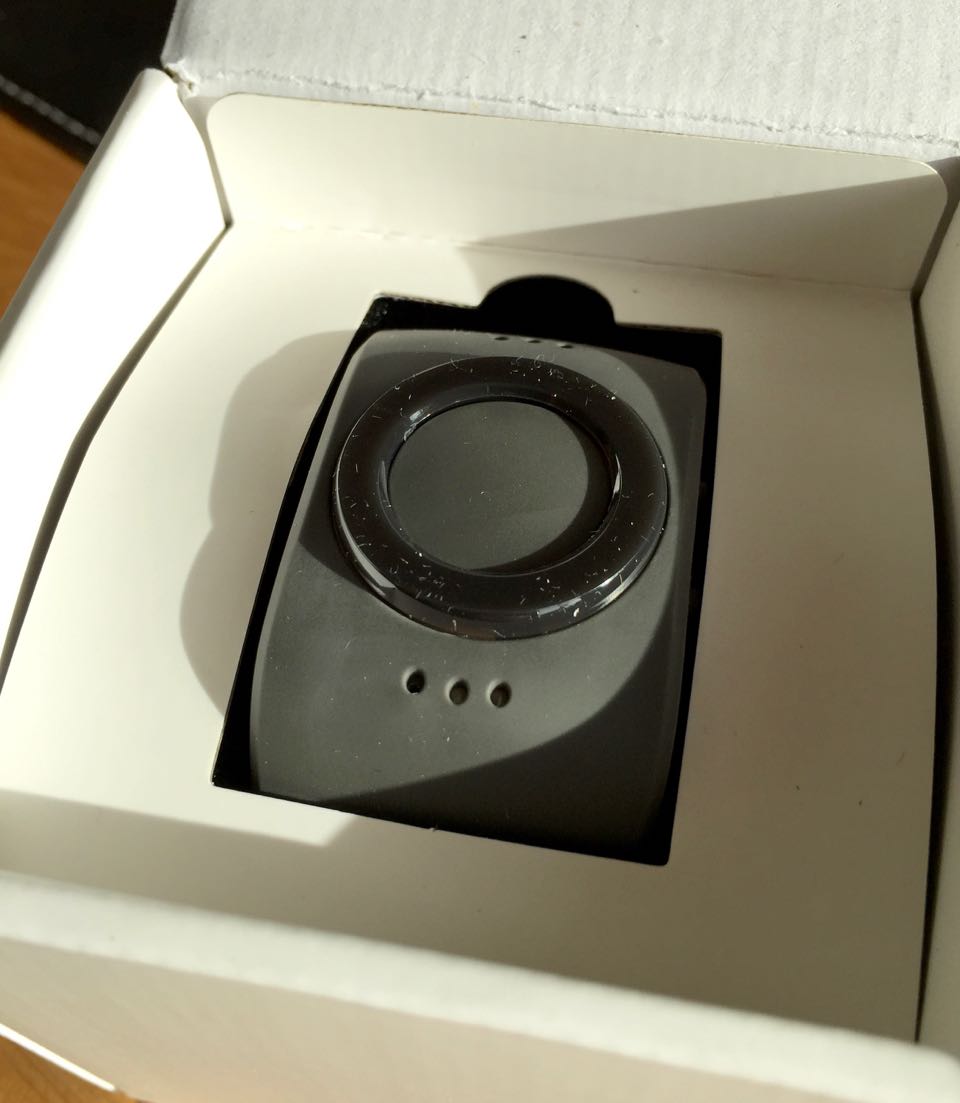 On one side there's a rubber lid covering the SIM card close, screwed shut with a teeny-tiny screw. A miniature screwdriver is included in the box for handling this, looks like they might have ordered it from a Barbie factory!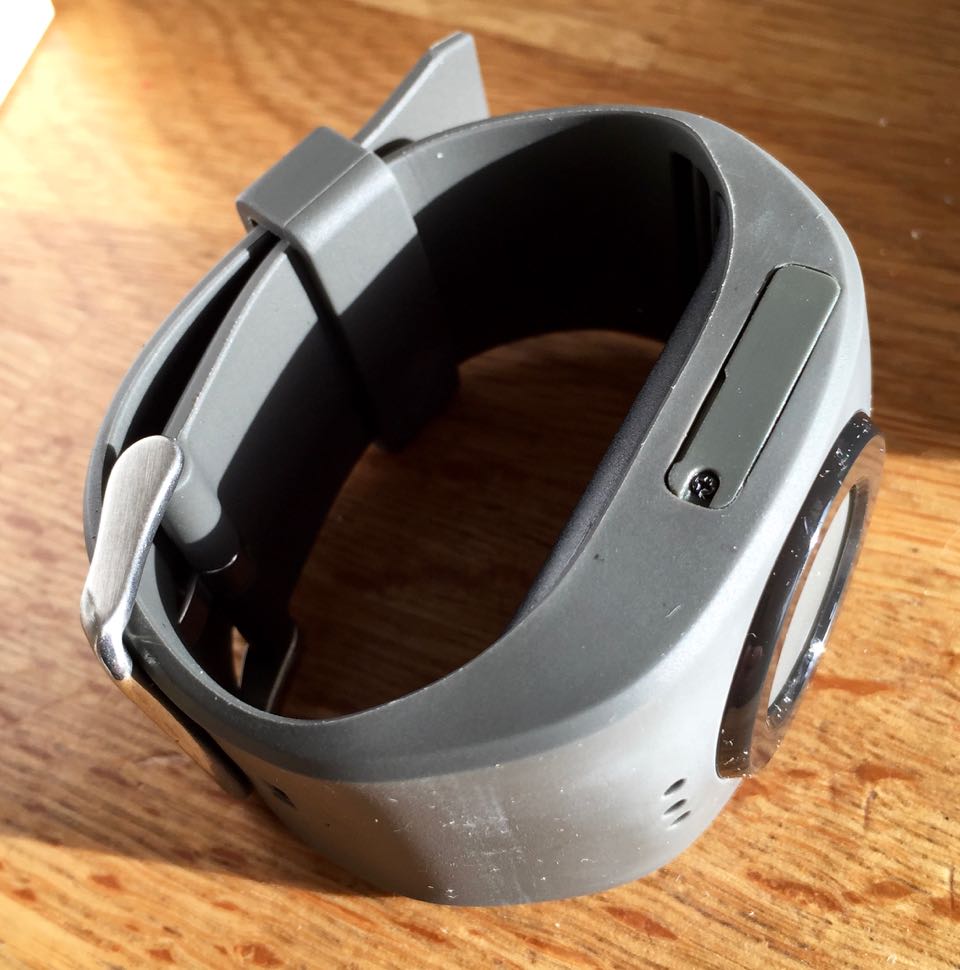 On the other side there are two buttons labeled plus and minus, used to control volume and select which contact to call.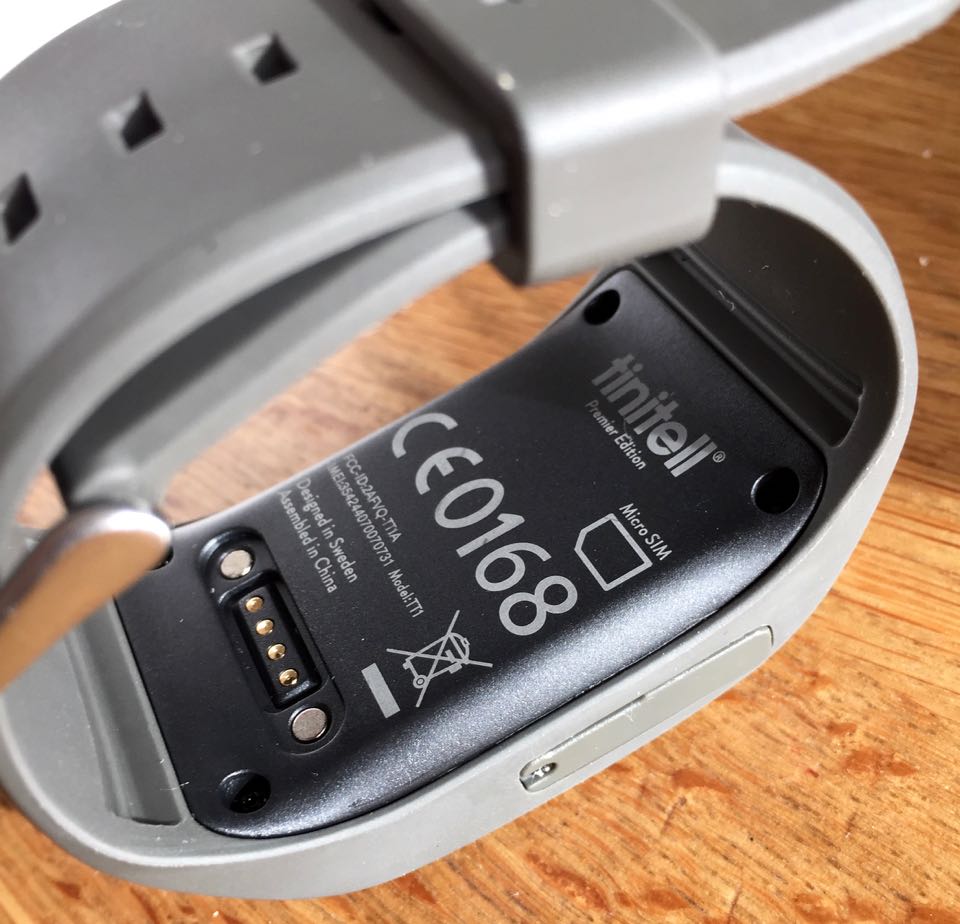 Finally, on the backside there's a connector for charging. It's a custom thing with four wires and two magnets. Easy enough to use, but it does make things complicated if you lose the provided charging cable. I assume you'll be able to order replacement cables if needed.
Since the device itself is rather lacking in interface capabilities, it's managed remotely using a smartphone app. They support iOS and Android. First you create an account and pair the phone with the app via Bluetooth LE. The pairing worked flawlessly, but when creating my account I noticed the first sign that the software isn't really finished yet. Note the password requirements: eight characters, one upper case, one lower case and one… something.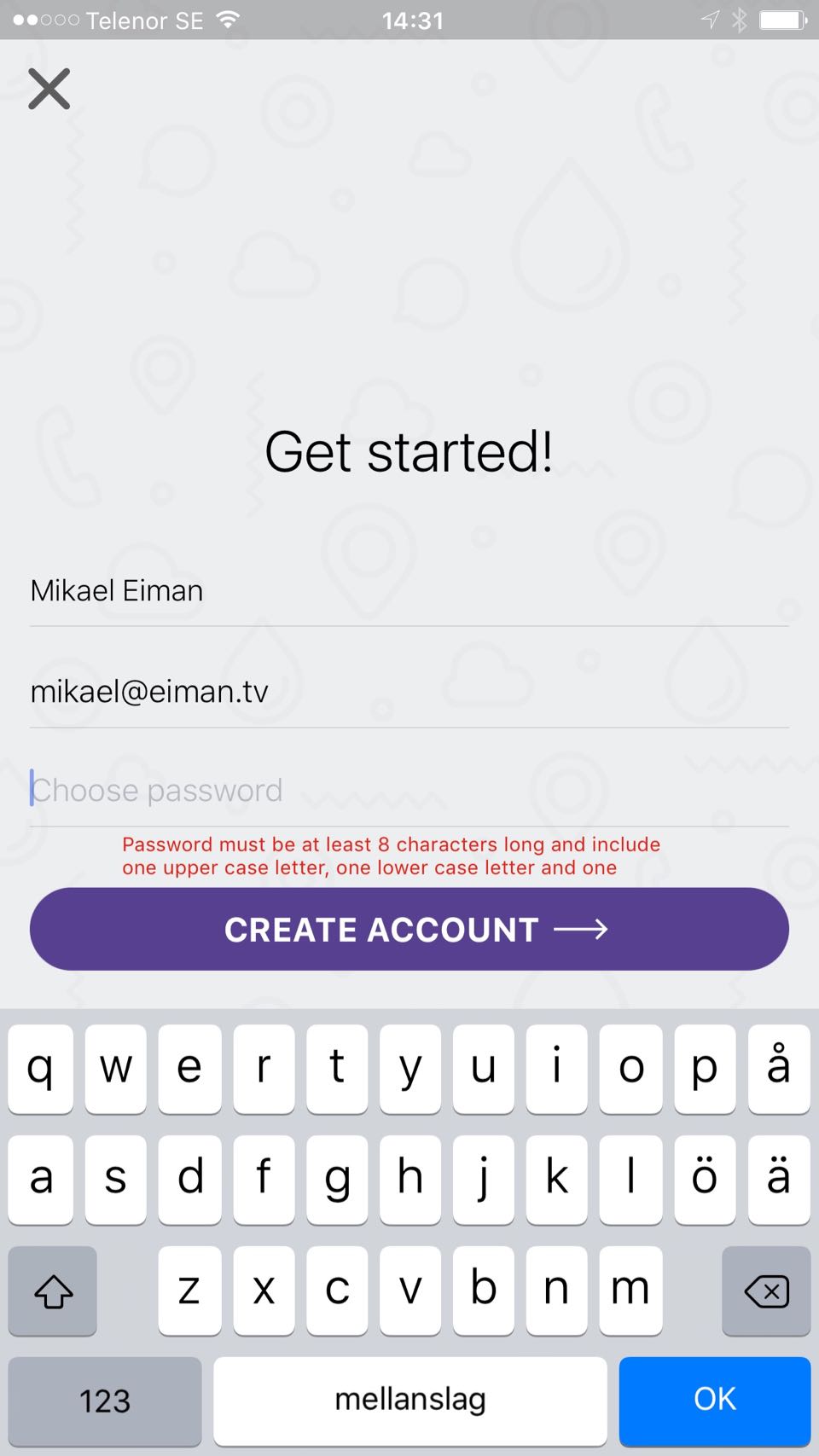 Having created the account and paired the phone, I saw that there was a firmware update available. Starting the update process was easy, but the GUI really should have a progress bar to indicate how long it's going to take. Currently it's just a spinner and you have no idea how long it'll take or if progress is being made. Turns out it didn't take very long, fortunately.
Elsewhere in the app you can see the physical location of the device, which has built-in GPS. You can also check battery status, plus a variety or very low-level technical details that really shouldn't be visible in an end-user app. In addition to the low-level nature of the info available, it's rather apparent that you're watching a raw dump of the JSON from the API calls made to the server side. They'll need to spend quite a bit of time moving the "useless for non-techies" info to a more hidden diagnostics page, and making proper widgets for the useful stuff like battery status.
Moving on, we can add twelve contacts to the device, that the kid can call by pushing the big button on the front of the device and selecting a contact using the plus/minus buttons on the side. Adding a contact is easy, just tap "Add", select someone in your phone book, record an audio label (which is played on the device when selecting who to call) and you're done.
Earlier I mention water resistance. They claim it can survive being under 1 meter of water for 30 minutes. I chose to interpret as "it probably won't break if you wear it outdoors". Which is a good thing for a wrist phone for kids, obviously. [ P.s.: Since writing this I've been contacted by someone who learned the hard way that the shipping product is claimed to be splash proof, and will not survive being submerged. I don't remember where I read that the device should survive 1 meter or water, but I do know that the water proofing was one of the things the producer worked on during development. ]
All in all things are looking rather promising, if we assume that this is the MVP version of the software and that it'll be cleaned up and the missing features added. Missing features, you say? In the Kickstarter they promised that you should be able to call by saying the name of the parson to call, but that doesn't seem to be implemented yet. There's also supposed to be a web interface in addition to the smartphone app, ringtone selection and probably some other stuff I don't remember right now.
The kids seemed to think it's a cool device when I put it on their wrists though, so let's hope that this is just the beginning of something that'll turn out great!
Finally, here's a list of features I think they should add:
SMS support. Send and receive texts via the app, to add money to PAYG SIMs which no doubt will be very common on these devices. Should also cause push notices to app.
Call history.
Voice-controlled dialing. It'd be nice if they supported dialing any number using this, e.g. instead of saying "mom", you say "070123456" (optionally enabled feature).